Champignons à l'escargot
Recept informatie
Voorgerecht
Hollandse
10 - 20 min
4 pers.
Vegetarsich: Ja

Ingrediënten
500 gram Champignons
2 Uien
3 Teentjes knoflook
1 zakje(s) Kruiden ter bereiding van kruide
2 eetlepel(s) Bloem (aangelengt met water)
Bouillonpoeder of aromat
0,5 bosje(s) Peterselie (fijngeknipt)
125 milliliter Slagroom
Geraspte kaas
Kruidenboter
Stokbrood
Recept bereiding
Snij de uien in ringen en snipper de teentjes knoflook zo fijn mogelijk.

Fruit de uien in wat boter en voeg de kruidenboter-kruiden toe.

Doe de hele champignons erbij en laat deze 10 minuten smoren (met de deksel op de pan).
Bind het kookvocht met zoveel aangemengde bloem als nodig en breng op smaak met peper en aromat of bouillonpoeder.

Roer er vervolgens de slagroom en peterselie door.
Verwarm de grill voor. Schep de champignons met wat saus in eenpersoons vuurvaste potjes of schaaltjes en bestrooi ze rijkelijk met de gemalen kaas.

Laat het gerecht kleuren onder de grill.
Serveren met stokbrood en kruidenboter.

Recept geplaatst op 11-02-2006 om 20:04:26 door en is 72410 keer bekeken.
Meer recepten
Bekijk ook deze soortgelijke recepten
: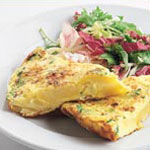 Aardappelbieslookpuntjes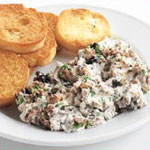 Bruschetta met paddestoelenspread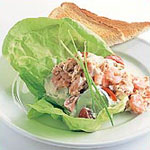 Viscocktail met frisse komkommer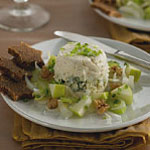 Kaastimbaaltje met selderij-witlofsalade
---

Waardeer recept champignons à l'escargot:
Recept reactie(s)