Grootmoe`s hachee
Recept informatie
Hoofdgerecht
Hollandse
> 2 uur
4 pers.
Vegetarsich: Nee
Nog geen sterren
Ingrediënten
600 gram runderhacheevlees in blokjes gesneden
1,5 eetlepel(s) bloem
125 gram braadboter
5 grote grof gesnipperde uien
1 laurierblad
3 kruidnagels
2 theelepel(s) azijn
Recept bereiding
Zoals mijn Oma het aan mijn Moeder overbracht en zij weer naar de kinderen, en daar ben ik er een van.
-
Zoals je het zelf wilt. Ik snij het vlees altijd in flinke stukken zodat het niet direkt draadjesvlees wordt. Het moet hachee zijn en geen stoofvlees, want dat is weer iets anders.
-
Strooi het zout, de peper en de bloem over het vlees. Verhit de braadboter in een braadpan en bak het vlees al omscheppend boven hoog vuur aan alle kanten mooi bruin. Voeg de uien toe en laat deze (al omscheppend) wat kleur krijgen. Leg dan het laurierblad en de kruidnagels in de braadpan bij het vlees met de uien. Sprenkel ook een beetje azijn over de inhoud van de pan. Voeg dan zoveel kokend water of kokende bouillon toe dat het vlees net niet onder staat. Leg het deksel op de pan; temper het vuur en laat de hachee gedurende 1½ à 2 uur zachtjes sudderen. Verwijder daarna het laurierblad en de kruidnagels.
-
Serveertip:
Natuurlijk is hachee bekend met rodekool, maar je kunt het ook eens serveren met rijst en andere groenten, zoals boontjes, bloemkool of alleen met rijst.


bron: Bij Oma en Moeders thuis

Recept geplaatst op 13-07-2014 om 15:28:05 door en is 3412 keer bekeken.
Meer recepten
Bekijk ook deze soortgelijke recepten
: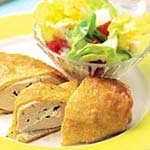 Gevulde kipfilet in bladerdeeg
Gegrilde roodbaars met auberginepuree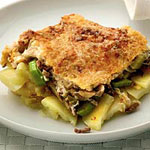 Aardappelschotel met prei en gehakt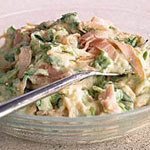 Stamppot
---

Waardeer recept grootmoe`s hachee:
Recept reactie(s)